Why did the BC Liberals cut support to families to pay for tax breaks to profitable banks?
As Christy Clark continues to defend her AdvantageBC corporate giveaway program, new details from a BC Court of Appeals case suggest more than half the money could be subsidizing big Canadian banks that made a combined $32 billion in profit last year.
The program cost just $2 million in 2001, but the BC Liberals dramatically expanded it, increasing costs to $25 million this year. In 2004, the BC Liberals expanded the list of qualifying activities to include Canadian companies engaged in foreign dealings - creating the loophole that allows Canadian banks to claim refunds. To pay for this, the BC Liberals increased the program's budget by $4 million that year – exactly the same amount they cut the BC Family Bonus, a program to help low and modest income families with the cost of raising kids. Here's the summary of budget 2004 revenue measures: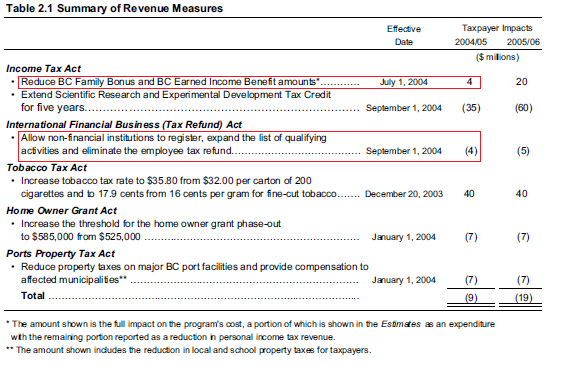 Court proceedings reveal that TD Bank qualified for a refund of $2.8 million in 2014 under the secretive scheme. AdvantageBC's website reveals that, along with TD, four other major Canadian banks - CIBC, RBC, Scotiabank, and HSBC Canada - are all core members. If the other banks claimed amounts similar to TD, total subsidies to Canadian banks would account for $14 million of the $20 million doled out last year.
While Colin Hansen, the former BC Liberal Finance Minister and current head of AdvantageBC, refuses to disclose details of how tax refunds are distributed, he has confirmed that most core members are participants in the tax scheme.
These five banks have contributed more than $800,000 to the BC Liberal Party since 2005.
British Columbians deserve some answers from Christy Clark:
Yesterday, you promised to provide evidence that this program creates jobs. Where is that evidence
Why have you hiked MSP, Hydro, and ICBC rates on people while expanding giveaways to hugely profitable banks?
Why won't you come clean on which companies receive giveaways, and for how much?